I used regular N2O speedshop solenoids. As such I'm at risk of them burning up during extended fills. Top that off with a very hungry current draw and you'll kill your battery.
I build a Solenoid Saver along the lines of the one described at the
NowHybrids Solenoid Saver page
. Here's a picture.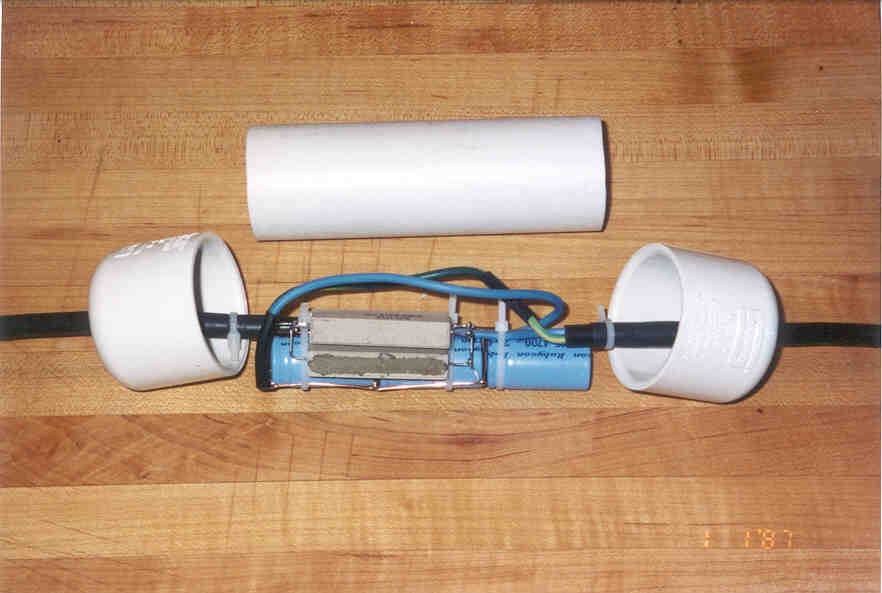 This picture is as it was built. I've since had to augment the components.
As built, it had 3 capacitors of 4300 uF at 25 V each in parallel with 3 power resistors of 33 ohms. I found it worked reliably at lower temperatures (below 70F) but was intermittent in the 70-80F weather and wouldn't open at 85F with the N2O at 910 PSI. That's about max pressure for flight so I wanted reliable operation at that pressure.
I cobbled up 3 2200 uF caps out of a PC power supply and also added my last 33 ohm power resistor. Some how the additional parts still fit in the tube above, tight as it now is. These should give a longer open surge with a slightly higher hold current.And to not be fighting my GSE on the field again, I tested this on a hot day on my driveway. It worked reliably at 910 PSI if not perhaps having a single pfft to vent perhaps higher pressure in the solenoid area.
Previously it wasn't hot enough to test, not even in the house, without perhaps a hot shower :| . if possible I recommend (1) testing your solenoid saver at pressure, through whatever means necessary, and (2) bringing an alligator clip to short it out, something I've done with igniter wire in the past.
If you do test, you'll find it reliable. Just test it to ensure the components are right for your solenoids. My Fill solenoid is a monster solenoid from N2Operformance.com and is current hungry. (I'd already learned it wouldn't open on a pad battery that had dropped a cell). I needed a meter for that (as rockets were otherwise launching and my dump solenoid worked). Bring a meter.
I did do one unique thing. You could call it cheap too. I ran a 3 wire to the solenoids and installed the solenoid saver in the return / ground lead. This way it works for both fill and vent solenoids. The only issue is ensuring it's plugged in correctly. I did this wrong once and it (1) acted funny, and (2) didn't work, and almost scrubbed a day of launching. So if you do this, wire it in permanently, or at least mark your connectors and polarities well.
I also have a schematic of the HyperTEK Solenoid Saver circuit
as built in. Note that we got this on Beta and replacement equipment, but it doesn't seem to be standard anymore. Note also that had to up the Capacitance to 20,000uF to get reliable fill solenoid operation under higher N2O pressures.
Hack paste of e-mail on Solenoid Savers from Hybrid Rocket Motor Yahoo group:
At 04:17 PM 12/19/2004, you wrote:
>A could do with a little help on this one not least because I am not too hot
>on electrical stuff. Not hot at all.
>1) In the Now Hybrids schematic it shows a capacitor of 11,000 uFDs (I
>assume these are micro Farads). Can I confirm that this is correct - it
>appears to be quite a large capacitor.
Yes, that is 11,000 micro Farads.
>2) Assuming it is correct....Mike Harris suggested doubling the capacitance.
Mike here. yes, I added about 50% to my capacitance.
but (a) I have a monster solenoid that wouldn't always open, and (2) I
filled the available space with the extra capacitors - I didn't add one and
test and decide to add the other. I just put two more in because I had them
and they fit.
My monster solenoid is one of the biggest that ColdFusionN2O.com had (was
an eBay item). It is high flow, but is an absolute current pig. In fact, it
won't operate if a battery has dropped a cell, where most will work well
below that voltage. I also added another parallel resistor to give an even
higher sustain current, as mine often would click but not hold. So my mods
must be taken with that in mind. That said, going heavy on the C and light
on the R won't hurt. Mostly, test at max pressure for reliable operation.
>The capacitor I have sourced at my online store quotes:
>
>22,000uF
>rated at 16V
>max current 21A
>(very surprised how expensive they are - £11.92, circa $23)
Very expensive! I sourced most of mine out of old computer power supplies -
a very rich source of high power components. And with capacitors in
parallel the values don't have to be the same, just keep paralleling them.
>3) The resistors........The text is not totally clear - my reading of it is
>42 ohm, 25 watt. Is this correct? If so would I be looking at getting a
>wirewound resistor here?
Any power resistor will do with a requisite power rating. So here, you're
looking at 22 ohms 50 watts
For most solenoids, it's not too critical.
Now Hybrids Page: 11,000 uF for C and 22 ohms at 50 watts.
My Page with monster solenoid caveats: 1650 uF for C and about 8.5 ohms.
was from Doug Pratt, but I don't think he added the saver circuit. Given that:
HyperTEK Fill: 10,000 uF for C and 16 ohm for R
HyperTEK Dump: 10,000 uF for C and 35 ohm for R

[mikeh - note 4/2005, the 10,000uF on the HyperTEK Fill was not adequate to actuate our old / large / NOS Fill solenoid, so I had to short it out. I am planning on upping the Capacitance to 20,000 uF as is on mine. Maybe also provide a bypass switch for those bad gass days.]

Do note that I put my solenoid save in the "common return" leg of a 3 wire
cable going to the solenoids so one saver circuit serves both fill and
dump. This works great as long as you get the polarities right when
plugging into the GSE. Mine terminate in two two wire banana jacks and I
plugged them in wrong one day and Doug and I had no end of trouble with
that. -Remember the capacitors are polarized and it *does* matter. Built
into the pad box like HT there's never an issue, but they do use two
circuits, and you'd have to add, I think, a diode to have one do both on
HyperTEK's box due to the diode switching.
Chris Eilbeck mentioned PWM and I think Now and Pratt both have these
modules available. Or maybe Now has the PWM and Pratt has the O2 sequencer?
Hmm...
So I recommend scrapping computer power supplies for your parts, and that
the nominal values should be just fine as long as you don't have the odd
pig of a solenoid like I do.
regards, Mike


Pratt
Reccommend Doug Pratt's BFV fill solenoid if not his other solenoids - low current special wound solenoids that don't need the saver.


.

This is specific to my GSE, and is here more for my documentation records.

I am using cat-5 bare cable to make the controller wire and hand soldering the DB9 connectors. But there are a couple of risks. The first risk is of someone (including me) using DB9-RJ45 adapters with or without a crossover cable. The crossover cable would swap RJ45 {1,3) {2,6} and DB9 connectors and cables would be at risk of also swapping DB9 pins 7,8. I didn't want anything bad or dangerous to happen if either or both of these occurred. Note that there are other funky DB9 pin assignments for specialized purposes but one can't account for all those cases - nor is one as likely to run into pre-wired DB9s matching those - on the field at least. I also desired to separate V++ from any relay returns onto different twisted pairs for the as-normal wired case.

I came up with the following assignments for J1. J2 doesn't have any assignments yet.: